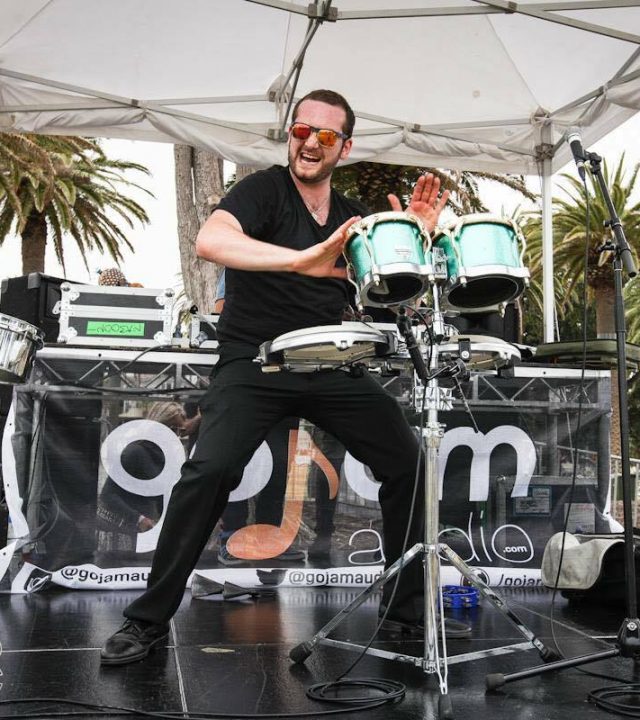 David has dedicated his entire professional life to his passion of providing dynamic and engaging entertainment. His experience covers a variety of event types, specialising in   special / major events, corporate shows, weddings to festivals and private parties. His focus is on the fun, creative and interactive entertainment.  You can trust DJ Dekdrum to deliver your vision and surpass expectations. David offers his wealth of talent and passion to please his different clients needs.
His DJ show is more than just a technical DJ, he focuses on choosing great music from his eclectic taste with an understanding of playing "for his guest, and not himself". A mix of skills, enthusiasm his ongoing energy. The journey began as a talented drummer where he learnt what makes people move and the power of rhythm! The DJ Dekdrum experience fuses great music, crowd interaction and incorporates the (all important) stress-free pre-event coordination of music to ensure a perfect delivery. He knows the importance of that an open discussion of the event brief with his clients is the key to creating truly unforgettable event.
DJ Dekdrum's library consists of genres such as pop, RnB, dance and retro that you'll sing along with. This also includes rare remixes and a world music collection from many cultures and is happy to work with you on a special mix. His focus is always to read the crowd and ensure that the feel is right at all times. 
He has performed at a number of high-end corporate functions including: AFL Grand Final for Coca-Cola, Heineken (Mainstage) at the Australian Formula1 Grand Prix, Richmond Football Club, Virgin Mobile Australian Tour,  Moomba Festival's Parade, Maurice Blackburn Lawyers Christmas Celebration for 700 PAX, Endomol Shine (Big Brother, Australian Survivor, Masterchef's production company) HP, IBM, Commonwealth Bank, MCG and SCG for Cricket Australia He taught the Ying Yang Twins how to drum and jammed with Tito Puente Jnr (son of one of the most famous latin greats), Justin Timberlake's official afterparty, Diwali festival.  DJ Dekdrum is no stranger to the mic. He is a versatile and in demand MC who is regularly contracted to weddings and corporate events as a formal master of ceremonies as well as a hype MC that knows how to engage and excite an audience
Contact us now for a customised quote.
We take the stress out of planning your event. We offer a satisfying, friendly service to our customers from the moment of enquiry to the celebration. We are confident that you will have a truly memorable experience.